About Services DER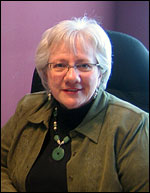 It is with great pleasure that I present DER Services, a business founded in 1995 that offers, notably, bookkeeping and secretarial services to independent workers, small businesses and accounting firms.
Throughout the years we have built a solid reputation by offering to our clients a quality, professional and personalized service.
Cordially yours,

Denise Dallaire Coulombe
Services DER Services
613-446-0044

Our Mission
Development:
We acknowledge that "Entrepreneurs" are at the heart of business development. They are the key to the success of a business; whether it is small, family based, independent, or new.
Ethics:
Being an example for fellow businesses is a great challenge. Good business ethics will insure continued growth.
Respect:
Interchanges with our clients/suppliers, the needs of our clients as to respect of norms, politics, and needs of their businesses should be imbued with respect.
Respect and acknowledgement as to the strength of our human resources.
Our longevity is a sign of the respect which we offer our clients.